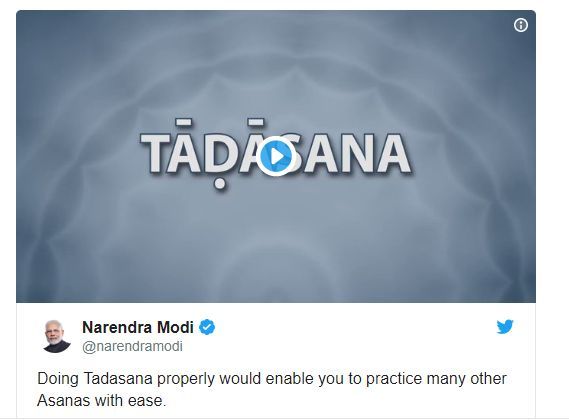 Prime Minister of India Shri Narendra Modi recently launched a video on Tadasana which is considered as one of the essential yoga poses. In this animated video, we can see PM Modi doing Tadasana also in this video PM Modi explained how useful this yoga pose is for beginners. PM Modi told various benefits of doing Tadasana as if you do Tadasana regularly, then you will be physically and mentally feel strong and healthy. Tadasana which is also known as Palm Tree Posture and it's useful for those who want to become mentally healthy. Before launching the video of this yoga pose, PM Modi has already tweeted about Trikonasana and its benefits.
On 21st June PM Modi is going to celebrate the world yoga day with lakhs of people in Ranchi. Narendra Modi has already talked about his vision to make India healthy, and according to him, Yoga can play a vital role in our life.
PM Modi admires the ancient Yoga which can help ordinary people to stay healthy, and that's why on this year's 21st June on the occasion of World Yoga Day the government has chosen to organize national programs. In Delhi, Shimla, Maisur, Ahmedabad, and Ranchi there is going to be a massive national program to celebrate the world yoga day, and it's expected that lakhs people would join live from each city. Last year the whole nation celebrated the international yoga day with PM Modi, and at that time also Modi shared continuous videos of various yoga asanas. However, this year seems to be unique for Modi government since they have recently won the general election that too with such high majority. If you want to know the benefits of doing Tadasana, then keep reading this post.
Doing Tadasana properly would enable you to practice many other Asanas with ease.

Know more about this Asana and its benefits. #YogaDay2019 pic.twitter.com/YlhNhcRas8

— Narendra Modi (@narendramodi) June 6, 2019
Benefits of Tadasana
Tadasana can make your whole body flexible, which means if you are getting any lower back or neck pain then this yoga pose might help you.

Tadasana is helpful if you have any knee pain. Since by doing this, your legs would get stronger, and you would get relief from knee pain.

Tadasana is good for losing weight since you will have to move your whole body, which will help you to burn the extra fat and will also make you feel stronger.

It is beneficial for mental health too. If you are struggling from any anxiety or depression, then this yoga asana might get you out of that hard phase.
Conclusion-
So these are some benefits of doing Tadasana, which is recently promoted by PM Modi on Twitter. You can tell us what you think about PM Modi's Yoga day mission and how are you going to celebrate world yoga day on 21st June.