Everyone likes to fit and stay healthy, but none of us can follow a strict healthy diet and do exercise regularly, right?. We are living in that time where people are suffering most from lower back pain because of the hectic work schedule they have to follow daily. People don't give that much importance to things like yoga, pranayama, or active exercise, but when they are doing it, they have to follow some useful guidelines. If you are the type of person who doesn't like to go to the gym but want to cure your back pain, then you need to do yoga exercises for lower back which are comfortable and quite doable.
Doing yoga might look easy, but if you don't do it correctly then it might backfire you, and at that time it's better to read first what kind of yoga asanas you will need to get relief from back pain.
Best Yoga Poses for Lower Back Pain Relief
Even if there are tons of yoga poses which can help you to lower your back pain. However, if you want to solve the problem of your lower back pain, then you have to choose only one of them. Here we have mentioned the top 5 yoga asanas for back pain with pictures.
Supine Twist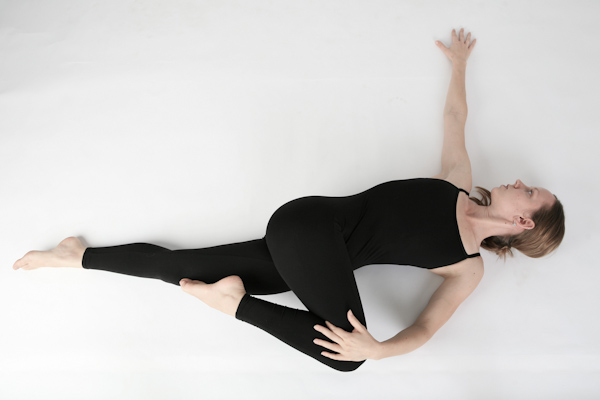 A simple yet effective yoga pose is Supine twist. A twist to the spine relieves lots of back pain which must be bothering you. In this yoga poses what you need to do is just lay down, relax, and then let the gravity around you help.
Instructions:- First of all, lay on your back then bring arms to a T shape on the floor and then bring your knees towards your chest.
You have to keep both shoulders on the floor, and if your knees are lifting too much, then you can put a pillow in between your knees. You can do this asana for 2-4 minutes and then repeat on the other side of your body.
The Sphinx Pose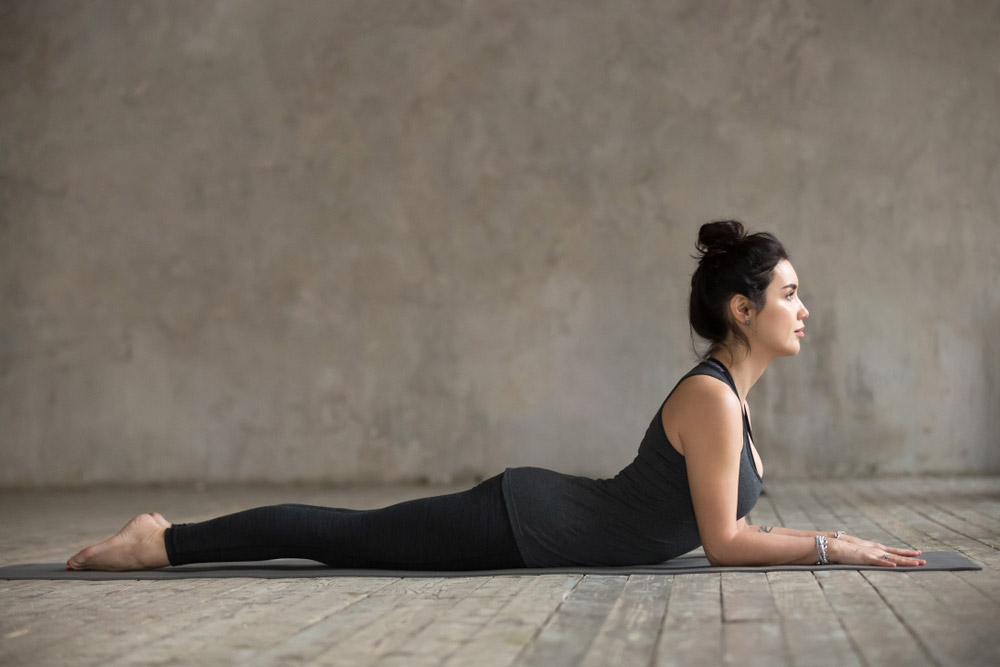 When you sit a lot, your lower back might get flatten because of which you might feel pain in there. Sphinx pose can be used to strengthen your lower back if you are getting too much of pain in there.
Instructions- Just lay down on your stomach, feet hip-width apart and then bring your elbows under shoulders. If you are feeling too much pressure, then you can bring your elbows forward.
If you want to do the deeper bend, then you can use a pillow in your elbows and then stay in the same pose for 1-3 minutes. You can come out of the pose by lowering your upper body first and then just lay down on the floor for as long as you need.
Also read :- Shalabhasana by PM Modi 
Downward Facing Dog Pose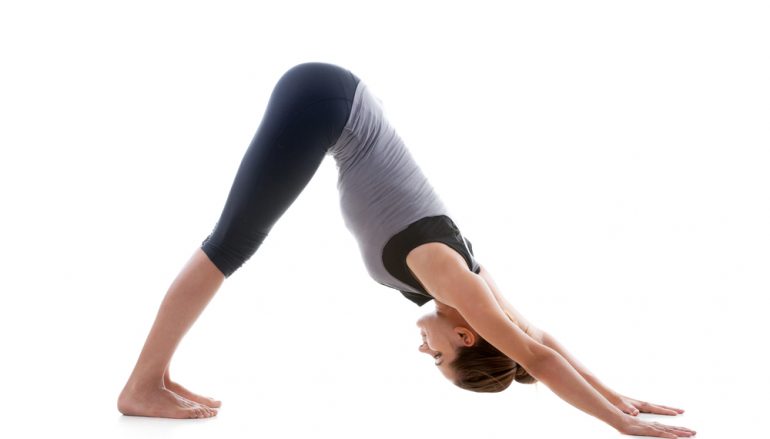 If the backs of your legs are tight then in such case you would feel lower back pains because of it. By doing Down Dog pose, you can easily stretch your hamstrings and calves. If you have not practiced that much yoga, then you should consider using this pose because it's one of the best yoga poses for back pain for beginners.
Instructions- First of all, keep your hands on the floor and sit up on your knees. Then lift your butt and press back into a downward facing dog. Now try to spread your fingers wide and strengthen your legs. Relax your head in between your arms and try to direct your gaze through legs. You can hold this pose for 1-3 minutes continuously.
Thread the Needle Pose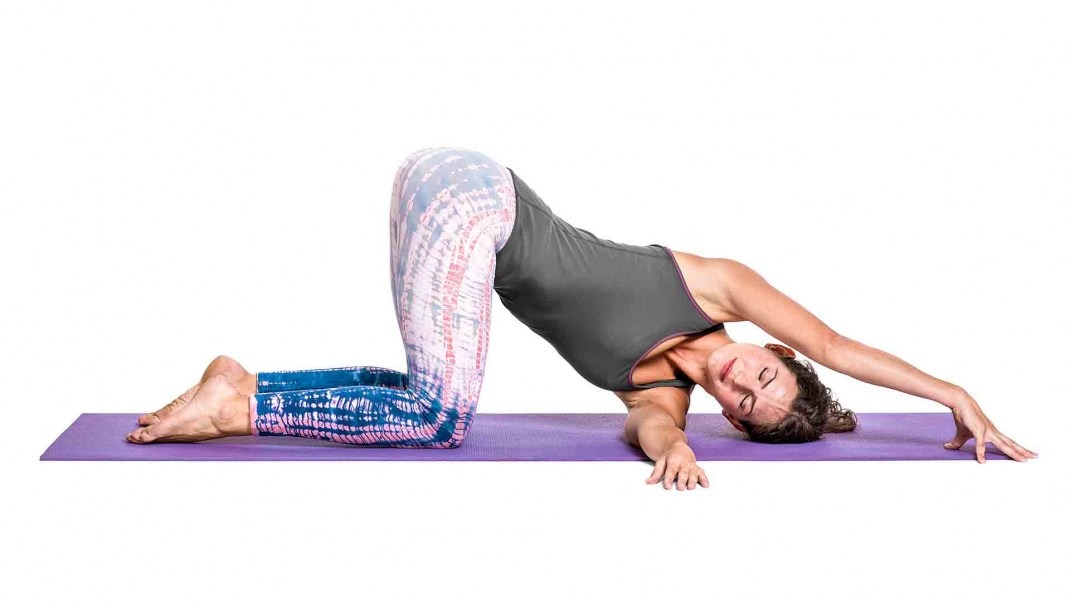 If your body doesn't get enough amount of motion, then it must be because your hips might be tight. In such a situation, you would feel extreme pain in your lower back, and one of the best ways to get relief from it is by doing thread the Needle Pose. With the help of this pose, you can stretch your hips, outer thighs, spine, and lower back.
Instructions- You can start this pose by laying on the floor and then bring the soles of your feet on the ground. Then place your right ankle on the left thigh and keep your foot flexible throughout the pose. You should take right arm in between the space of your legs and left wing outside the left sleeve. Then cross the fingers on behind your knee, or if you don't have any area, then you can put the thumb on top of the shin also. You should do this pose for around 1-3 minutes and don't forget to change the sides.
Cat And Cow Pose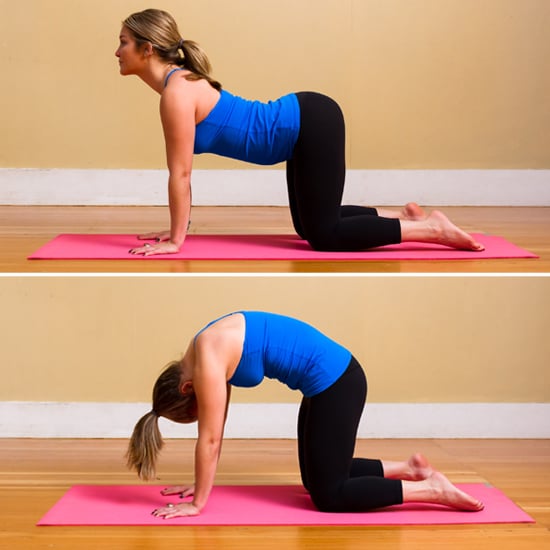 If you want to do yoga for lower back pain relief easily, then this pose might be for you. By practicing this pose every day, you can easily stretch your entire spine and body. Sometimes people want to do yoga to strengthen back and core and if you're one of them you should try this pose.
Instructions– You can start on your hands and knees. While inhaling, you should lift your chest towards the roof and while exhaling arch your back while pressing through shoulder blades and dropping your head. The process is simple, and you should continue it according to the rhythm of your body. You should do around 6-8 rounds but slowly.
Also read about effects of Yoga on mental health.
Final Words-
So these are some of the best yoga asanas which you can try to use when you are getting lower back pain. Sometimes people don't give that much importance to their health, but if you want to live a happy and healthy life, then you will have to take care of your body. If you're one of those people who are always complaining about problems like back pain can't stand up straight then you should go with any of the yoga asanas mentioned earlier. If you have any doubts or questions, then you can leave a comment down below.