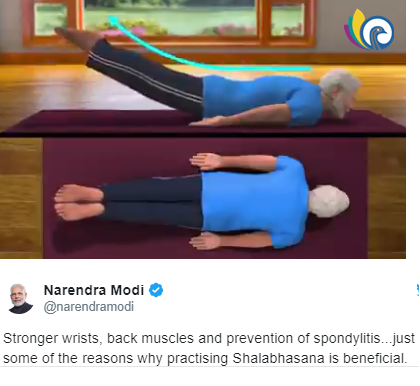 Prime Minister Narendra Modi has posted another video of Yoga on his twitter account. On Monday morning PM modi posted another video which shows the importance of doing "Shalabhasana". In this video animated version of PM Modi can be seen doing Yoga while the voiceover outlines the benefits. The animated video is well created because it does not only show how to perform "Shalabhasana" but its benefits also. The animated video is not that much longer, but one can see and observe that PM Modi is trying to teach people the importance of doing Yoga.
The animated Yoga video serious started a few days ago when PM Modi tweeted a video, and since that day PM Modi has decided to post one video daily till the world yoga day. The world yoga day is on 21st June, and since PM Modi has convinced all other countries to celebrate 21st June as world yoga day, this initiative is going to improve his image a lot.
Stronger wrists, back muscles and prevention of spondylitis…just some of the reasons why practising Shalabhasana is beneficial. #YogaDay2019 pic.twitter.com/etloBuR7KB

— Narendra Modi (@narendramodi) June 17, 2019
PM Modi tweeted that Shalabhasana can make wrists stronger and improve back muscles. The importance of being healthy has increased among people significantly because of awareness about Yoga. The Modi government's cabinet ministers are all going to celebrate 21st June as world yoga day along with ordinary people. There have been many occasions where PM Modi has promoted the culture of practicing Yoga. While posting this video, PM Modi said that Yoga is a passport of staying fit and getting a healthy body. PM Modi thinks staying fit and healthy shall be a person's priority, and by doing Yoga regularly, they can achieve some tremendous intellectual limits.
Benefits of Shalabhasana
PM Modi himself is going to lead the Yoga program, which is going to held in Ranchi. Shalabhasana is one of the hardest yoga asanas since it requires to be more flexible and consistent and here are some key benefits of doing Shalabhasana:-
Shalabhasnaa can strengthen your lower back, which means if you are a type of person who is suffering from lower back pain, then you should practice this yogasana to get some relief.

It provides firm flexibility to the lower back muscles and spine.

It can also strengthen your shoulder and neck muscles.
The United Nations Assembly has already declared 21st June as International yoga day, and this year's theme for yoga day is going to be "climate action" focusing more on environment and related issues. [/et_pb_text][/et_pb_column]