Are you donning ready-to-wear sarees this season? You are about to get fascinated by the choices mentioned.
The fashion world is constantly evolving, and one of the latest trends that has taken the industry by storm is the ready-to-wear saree. Traditionally, sarees have been known for their elegance and grace, but they require significant time and effort to drape perfectly.
Ready-to-wear sarees provide a convenient and hassle-free alternative for those who want to experience the beauty of this traditional Indian attire without the complexities of draping.
Benefits of Choosing Ready-to-Wear Sarees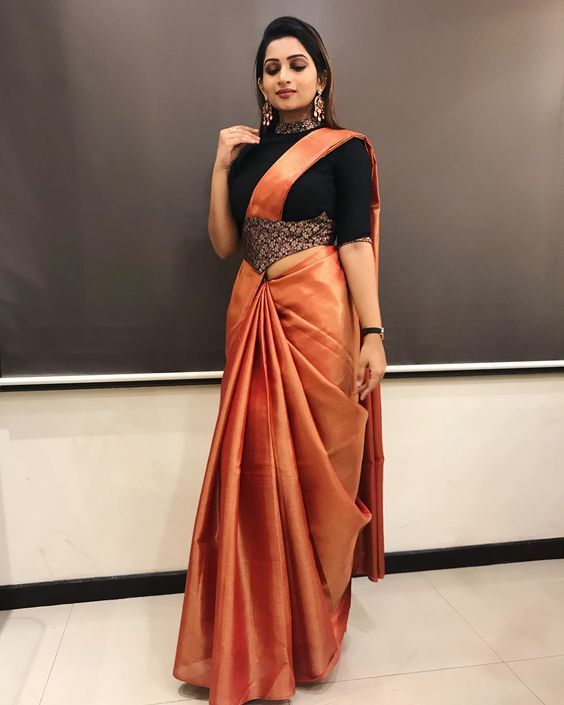 There are several benefits to choosing ready-to-wear sarees over the traditional ones.
Firstly, they save time and effort. With ready-to-wear sarees, you can just slip them on and be ready to go effortlessly. There is no need to spend hours trying to drape the saree perfectly, making it an ideal choice for busy individuals or those who are new to wearing sarees.
Secondly, ready-to-wear sarees are designed to fit all body types. Unlike traditional sarees, which require precise measurements and custom tailoring, ready-to-wear sarees are available in varied sizes and can easily be adjusted to fit your body shape. It ensures that you always look your best and feel comfortable in your attire.
Lastly, ready-to-wear sarees offer a wide range of designs and styles. Whether you prefer traditional patterns or modern designs, there is a ready-to-wear saree for everyone. It lets you express your style and create a fashion statement without compromising convenience
Ready-to-Wear Saree vs. Traditional Saree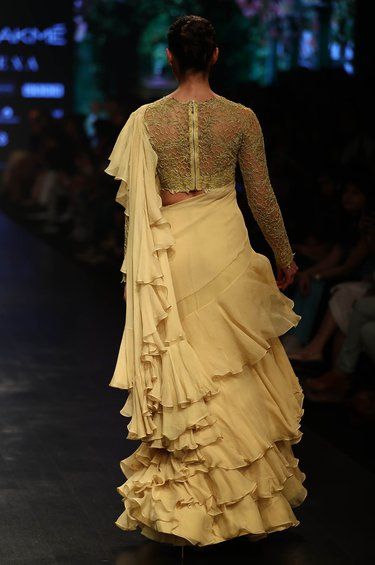 Traditional sarees are an integral part of Indian culture and are worn at important events, but they may be difficult to drape. Ready-to-wear sarees are comfortable and easy to wear. They are pre-stitched with pleats and pallu already attached, making them a convenient alternative for people unfamiliar with draping.
In terms of versatility, traditional sarees offer more options for customization. The length and width of the fabric can be adjusted according to personal preference, allowing for unique draping styles. Ready-to-wear sarees, however, come in standardized sizes and may not offer the same level of flexibility. Despite this, they still provide a range of styles and designs, making them suitable for various occasions.
How to Choose the Right Ready-to-Wear Saree?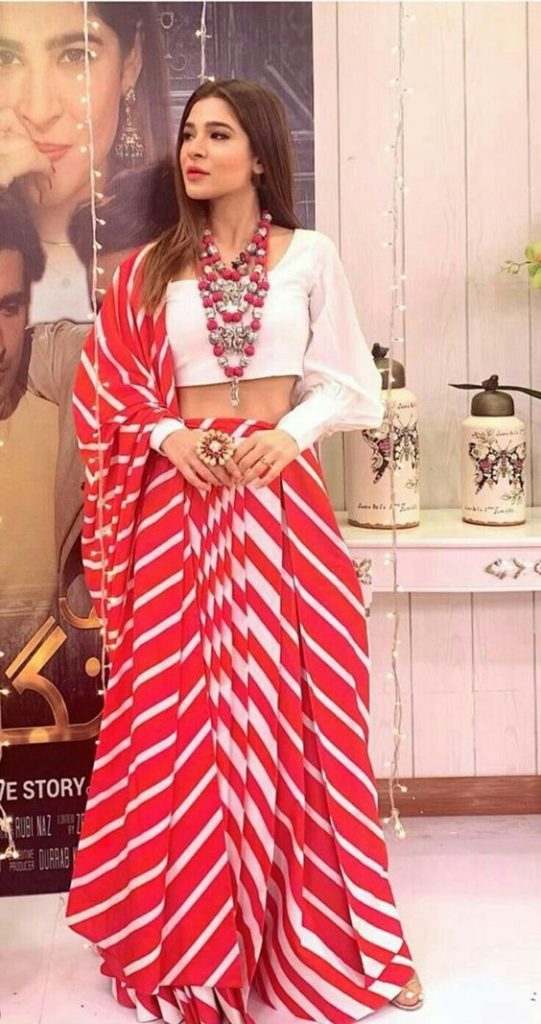 There are several factors to consider when choosing the right ready-to-wear saree. First, pay attention to the fabric. Opt for materials that are comfortable to wear and suitable for the occasion. Silk, chiffon, and georgette are popular choices— for their elegant drape and lightweight feel.
Consider the design and color of the saree. Look for patterns and motifs that resonate with your style and complement your complexion. Bright and vibrant colors are perfect for festive occasions, while pastel shades are ideal for more formal events.
Ensure that the saree fits you well. Take accurate measurements of your body and refer to the size chart provided by the brand. Try on the saree before purchasing to ensure a perfect fit.
Tips for Seamless Draping of Ready-to-Wear Sarees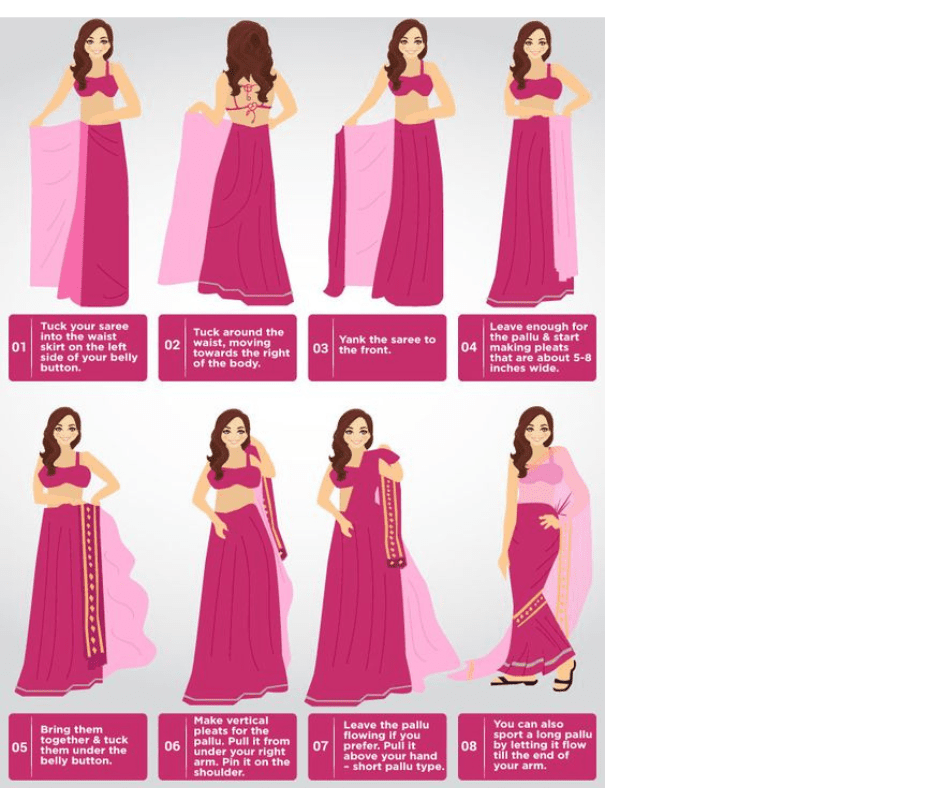 While ready-to-wear sarees are easy to drape, a few tips can help you achieve a seamless look. Ensure the pleats are neatly arranged and secured in place. Use safety pins or fabric tape to keep them in position and prevent them from coming undone.
Pay attention to the pallu. Drape it gracefully over the shoulder and pleated neatly at the front. Use pins or decorative brooches to secure it in place and add a touch of elegance to your ensemble.
Do not forget to accessorize. Choose jewelry, such as earrings and bangles, that complement the saree and enhance your overall look. A well-chosen clutch or handbag can also add a stylish finishing touch.
Innovative Drape Variations and Accessories for Ready-to-Wear Sarees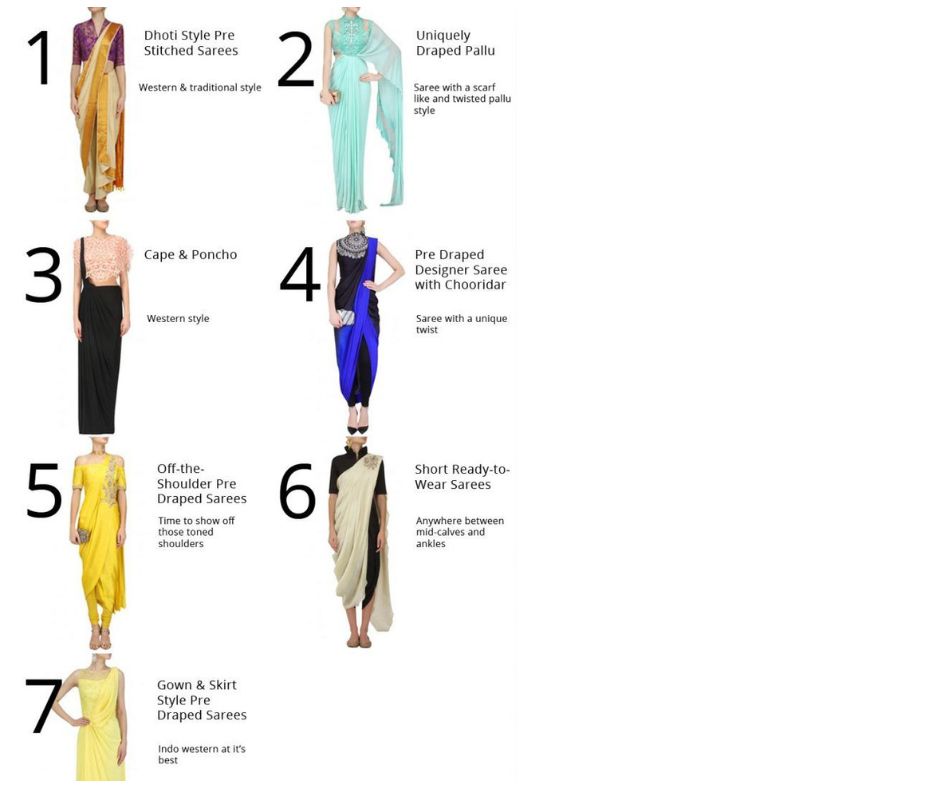 Ready-to-wear sarees offer various innovative drape variations and accessories to elevate your style. One popular variation is the pre-stitched dhoti saree, which combines the elegance of a saree with the comfort and ease of wearing a dhoti. This unique drape style is perfect for those who want to make a bold fashion statement.
Another popular option is the pre-stitched lehenga saree, which combines the beauty of a lehenga with the convenience of a saree. This style features a pre-stitched pleated skirt that gives the illusion of wearing a lehenga, while the pallu is like a saree. It is an excellent choice for weddings and other formal events.
Ready-to-wear sarees can be paired with a variety of trendy accessories. Statement belts, embellished blouses, and designer brooches can add a touch of glamour to your ensemble. Experiment with different accessories to create a unique and personalized look.
Top 6 Ready-to-Wear Sarees under 4000 on Amazon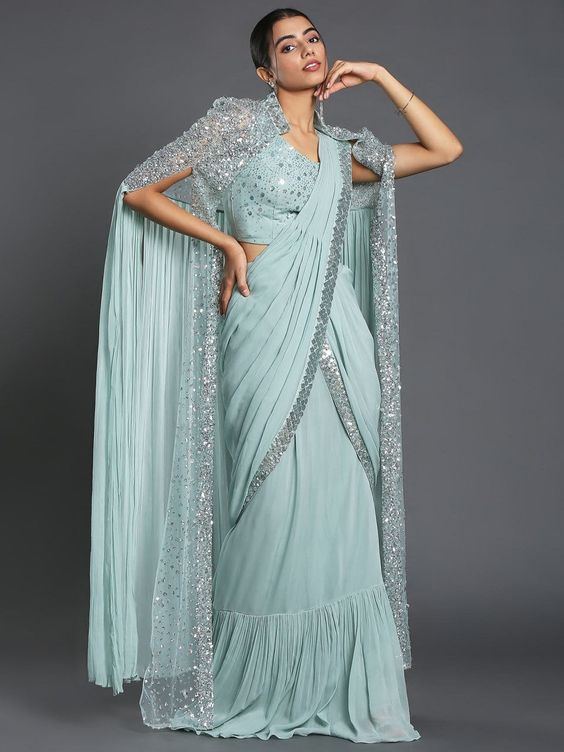 If you wish to add some ready-to-wear sarees to your wardrobe without breaking the bank, Amazon offers a wide range of options at affordable prices. Here are the top 6 ready-to-wear sarees under 4000 that you can find on Amazon:
1. Siddhita Chinon Saree
You do not want to splurge but demand an elegant piece. This one is for you. With its flowy fabric and pinkish dual-tone color— this chiffon-Georgette saree is perfect for casual parties and evening events. The pre-stitched style allows for effortless draping, while the vibrant colors create an elegant look.
2. Generic Women's Ruffle Ready to Wear Saree
Made from faux georgette— this saree exudes luxury and sophistication. The pre-stitched ruffled pleats ensure a perfect drape. It comes with a designer blouse and embroidered belt that looks outstanding in any Mehndi or Haldi function. It is also a great buy for Navratra. The pastel shade makes it a standout piece.
3. Akhilam Women's Embroidered Satin Silk Patch Work Ruffle Saree
With elegant embroidery and intricate detailing, this saree is perfect for special occasions. The pre-stitched pleats and pallu add convenience, while the soft fabric drapes beautifully on the body. It comes in three shades violet, camel brown, and black.
4. Infloura Women's Girls Apple Organza Silk Saree
This saree has modern elements containing the look of a saree and lehenga. The classic yellow ruffle saree looks chic after the drape. It comes with an intricately embroidered blouse with a classic design and contemporary color palette. The ready-to-wear style makes it a hassle-free option for Diwali, Karwachauth, and other auspicious occasions.
5. WiMO Georgette Saree with attached petticoat
This one-minute georgette saree is lightweight and easy to drape. For special occasions, it comes with an attached lining. It has heavy sequin embroidery all over and comes with a heavy sequin blouse all over. If you are looking for something modern and eye-catching, grab this.
6. WiMO Silk Blend Saree
An elegant woven zari design and a bright contrast border make this saree a perfect wedding attire. The dress has an attached petticoat and is available in three colors: pink, gray, and black. This 6-yard elegance is a steal deal for the bride's sister or the groom's sister-in-law.
Where to Buy Ready-to-Wear Sarees Online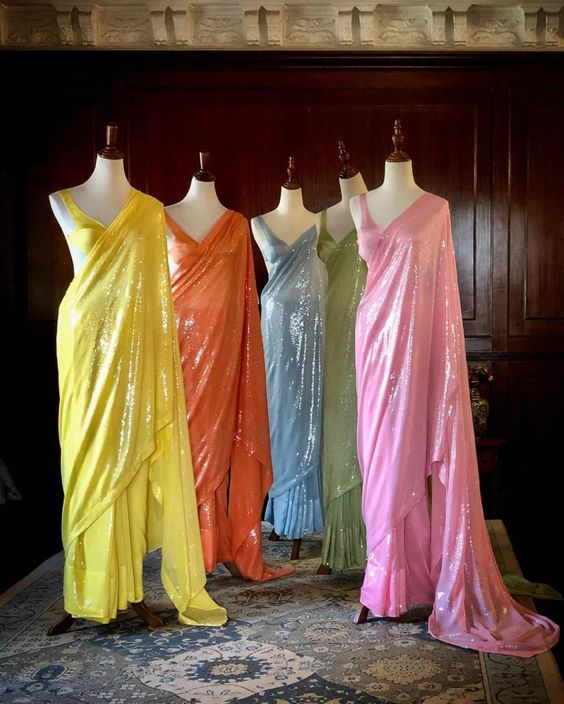 If you're ready to explore the world of ready-to-wear sarees, there are several online platforms where you can find a wide range of options. Some popular websites to buy ready-to-wear sarees online include:
Step-by-Step Drape Tutorial
Draping a saree is an art. If you are a beginner, it is not as easy as it looks. So, to drape it effortlessly, we have added instructions that will let you get an elegant draping every time.
Step-1. Tie a petticoat in your waist.
Step- 2. Make a knot at one end and tuck the end plain of the saree. Making a knot helps in easy draping. Ensure that the saree is tuck to the floor length.
Step- 3. Make pleats of 5 to 7 inches wide from left to right. Adjust them neatly and secure them with a safety pin from the backside.
Step-4. Bring pleats to your center and tuck them towards your waist. Ensure it is tight.
Step- 5. Bring a saree pallu towards your left shoulder. Hang them on your left arm. Adjust the pleats and secure them with a safety pin inside your blouse. Here you go!
Care and Maintenance of Ready-to-Wear Sarees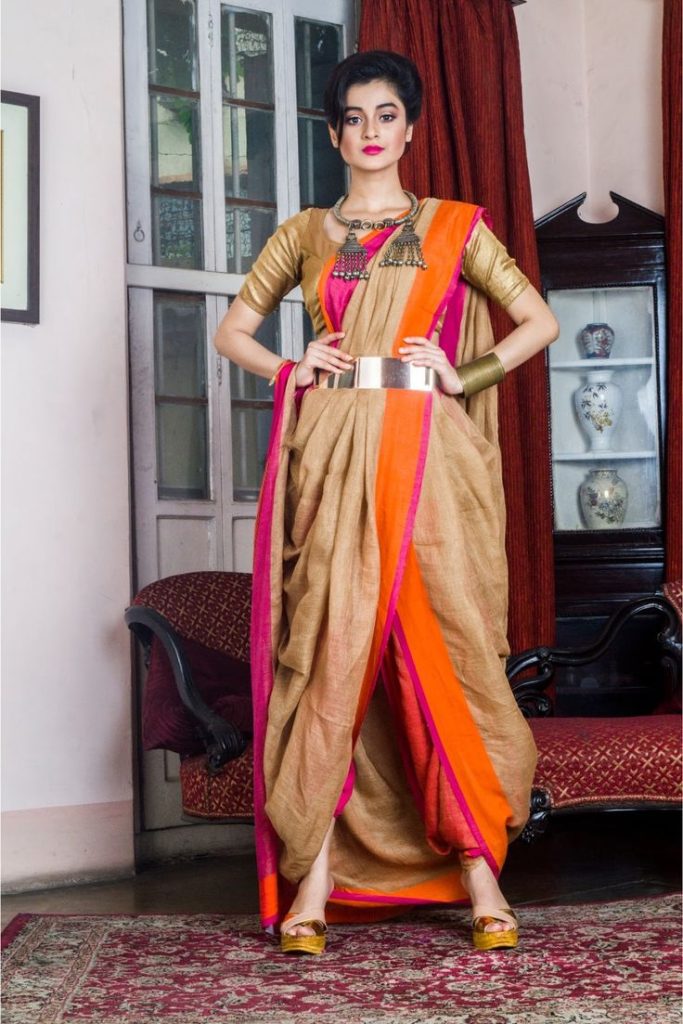 Preserving the beauty of your ready-to-wear sarees requires proper care. Here are a few tips for the care and maintenance of ready-to-wear sarees:
Always follow the care instructions provided by the manufacturer. Different fabrics require different washing methods, so ensure reading and following the guidelines carefully.
If possible, dry clean your sarees to maintain their color and fabric quality. Professional cleaning ensures that any stains or dirt gets removed without causing damage to the saree.
If you hand wash your saree, use a mild detergent and lukewarm water. Gently swirl the saree in the water, avoiding harsh rubbing or twisting.
Avoid drying your saree in direct sunlight, as it can cause the colors to fade. Instead, hang it in a shaded area or lay it flat to dry.
Store your sarees in a cool, dry place away from direct sunlight to prevent damage. We recommend folding them neatly and storing them in a muslin or cotton bag to protect them from dust and moisture.
Conclusion
Ready-to-wear sarees offer a convenient and stylish alternative to traditional sarees. With their ease of draping and wide range of designs, they are perfect for those who want to embrace the elegance of this traditional Indian attire without the complexities.
Whether you're a saree aficionado or a beginner, ready-to-wear sarees provide a hassle-free way to look effortlessly elegant. So, explore the world of ready-to-wear sarees, choose the perfect one for you, and experience the beauty and grace of this timeless garment. Shop now and discover the world of effortless elegance with ready-to-wear sarees. Experience the convenience and beauty of these stylish ensembles and elevate your fashion game. Go on!!!