India has varied cultures, rich history, and stunning scenery. Heritage trains are a great way to see the country's history and natural beauty. The colonial heritage, royal luxury, and scenic beauty of India are seen in these trains. Here, we'll explore the famous heritage train in India.
Perhaps India's most renowned luxury heritage train is the Palace on Wheels.
Palace on Wheels
The Palace on Wheels is a classic luxury train across Rajasthan, India. This train, a Running palace with 14 exquisite cars named after Rajasthan princely states, invites passengers into the lavish realm of Indian monarchy. The Palace on Wheels' two excellent restaurants, "Maharaja" and "Maharani," provide Indian and other cuisines, making dining a culinary experience. The elegant atmosphere and excellent service enhance the dining experience, while the well-stocked bar offers relaxation.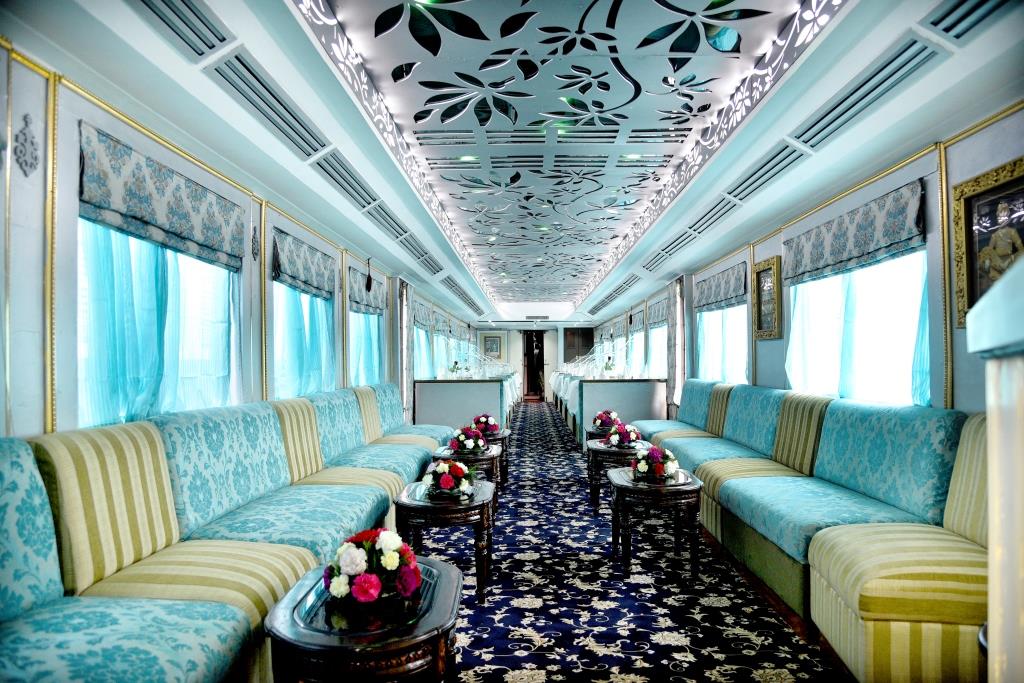 The Palace on Wheels takes travelers on a regal tour across Rajasthan, treating them like maharajas and maharanis from the minute they embark. This luxury train lets passengers experience India's regal past while enjoying contemporary conveniences with its themed design, cultural performances, and world-class service. The Palace on Wheels offers a unique view of Rajasthan's lavish past.
Other Heritage Trains in India
1. Maharajas' Express
The Maharajas Express is another royal India-themed luxury heritage train from India. Many call this train the world's most luxurious. It brings you to India's most beautiful cities, including Delhi, Agra, Jaipur, Varanasi, and Udaipur.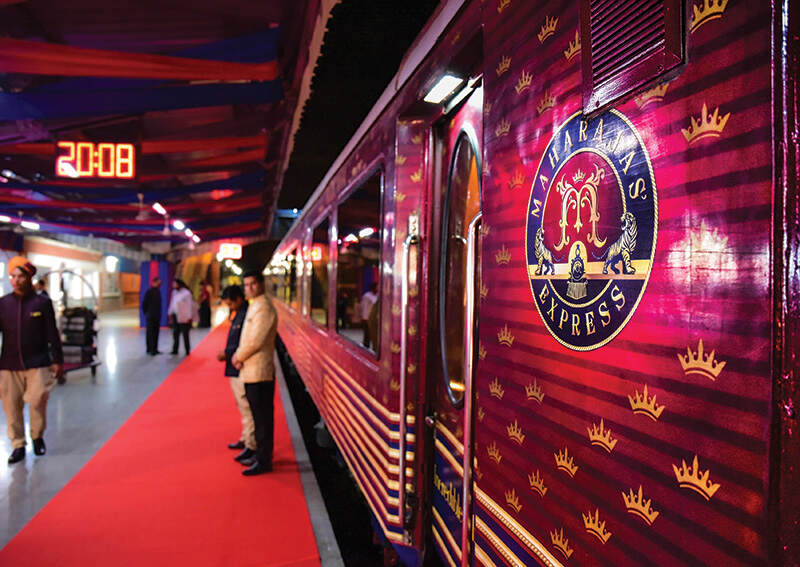 Indian heritage railways provide luxury accommodations, excellent dining restaurants, a well-stocked bar, and a lounge to relax and enjoy the scenery on the train. Route of trains, forts, and monuments are meticulously planned. The Taj Mahal, Amber Fort, and Khajuraho temples are among the attractions for passengers.
2. Deccan Odyssey
The luxury train Deccan Odyssey visits Maharashtra and beyond's stunning scenery. It visits Mumbai, Goa, Hampi, and Ajanta-Ellora. The train has beautiful décor and sumptuous interiors like royal carriages from the past.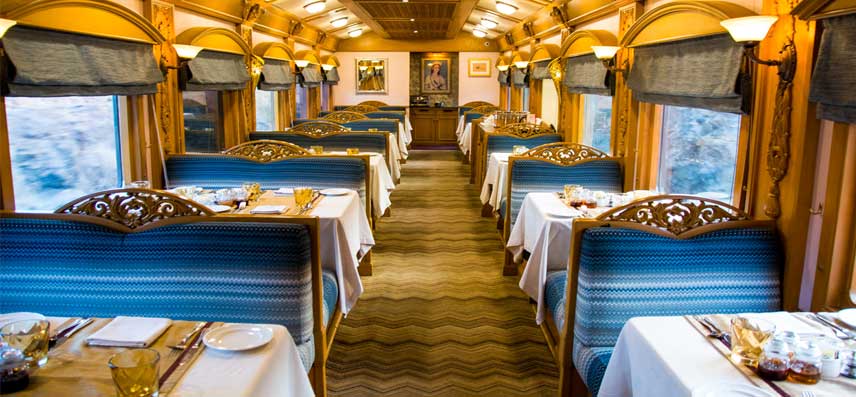 On the Deccan Odyssey, passengers may enjoy spa treatments, gourmet meals, and cultural entertainment. In addition to UNESCO World Heritage Sites, the train provides guided tours of medieval forts and local marketplaces. Luxury and exploration enable you to discover India's rich past.
3. Darjeeling Himalayan Railway
An ancient narrow-gauge railway in India, the Darjeeling Himalayan Railway, known as the "Toy Train," is a UNESCO World Heritage Site. The Darjeeling hills in West Bengal are its scenic route.
The train ride past tea plantations, woodlands, and mountain communities is beautiful. The trail loops and zigzags affording Himalayan vistas. Batasia Loop, a prominent Kanchenjunga mountain panorama viewpoint, is also passed by the railway.
The Darjeeling Himalayan Railway is more than a ride—it's a tour of the Eastern Himalayas and Darjeeling's colonial charm.
4. Nilgiris Mountain Railway
Another UNESCO World Heritage Site in Tamil Nadu is the Nilgiri Mountain Railway, which winds across the hills. This late-19th-century railway, known as the "Toy Train of South India," was created.
The 46-kilometer railway ride begins in Mettupalayam and ascends to Ooty. The journey crosses bridges, tunnels, tea plantations, and deep woodlands. Traveling the "Coonor Loop." is a highlight of the trip.
The Nilgiri Mountain Railway's historic carriages and steam engines transport you to the past. A fantastic way to see the Nilgiri Hills' natural splendor.
5. Kalka-Shimla Railway
Kalka-Shimla Railway, another UNESCO World Heritage Site in Himachal Pradesh, provides a unique Shivalik Range train ride. Kalka and Shimla were connected by this narrow-gauge railway in the late 19th century.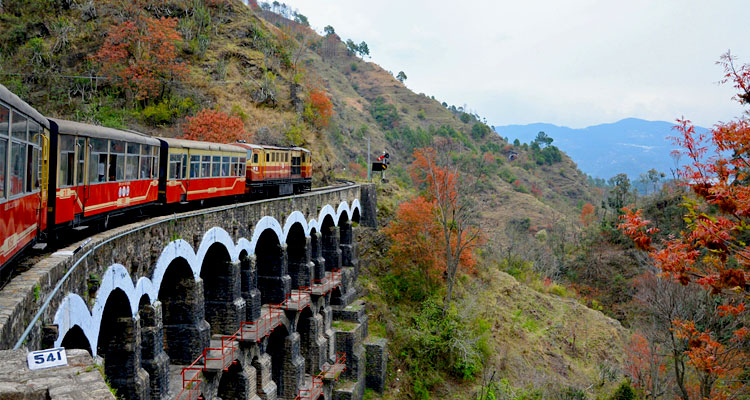 The train ride through verdant valleys, pine woods, and scenic hillside villages is magical. The railway has steam and diesel engines and several tunnels and viaducts. The trek to Shimla, the "Queen of Hill Stations," offers spectacular Himalayan vistas and a glimpse into British colonial life.
6. Matheran Hills Railway
The picturesque narrow-gauge Matheran Hill Railway transports you to Matheran, Maharashtra's hill station. Since Matheran prohibits cars, it is one of India's most miniature hill railroads and a pollution-free form of transit.
A scenic train trip from Neral to Matheran through lush woods offers beautiful vistas of the Western Ghats. Miniature, colorful carriages make the railway ride charming. Explore Matheran on foot or horseback to enjoy its tranquility and old-world charm.
7. Royal Rajasthan on Wheels
The Royal Rajasthan on Wheels is a luxurious historical train that tours Rajasthan's splendor. It includes Jaipur, Jodhpur, Udaipur, and Varanasi, with history, culture, and wonder.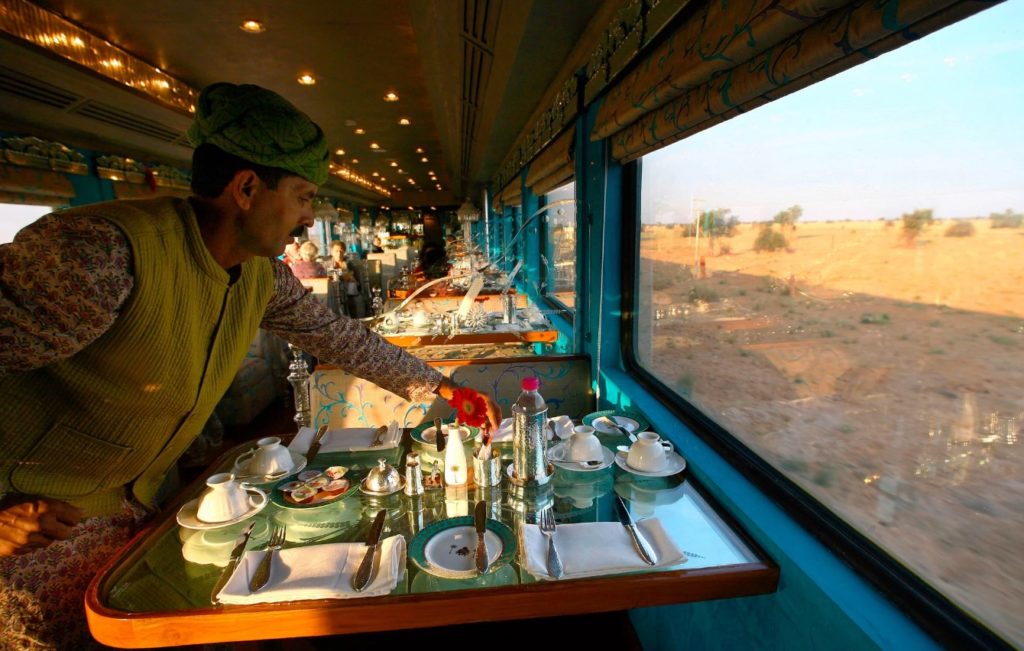 The train is decorated like Rajasthani palaces and forts, and passengers receive royal hospitality. The ship has a spa, fine-dining restaurants, and a lounge. Cultural concerts and historic Train Routes are also offered by the train.
The narrow-gauge Garhwal Himalayan Railway, popularly known as the Garhwal Rifles Toy Train, operates in Uttarakhand's Garhwal area. This picturesque railway links Rishikesh and Mussoorie with stunning Himalayan vistas.
8. Kangra Valley Railway
Another narrow-gauge railway in Himachal Pradesh, the Kangra Valley Railway, provides a scenic ride. The railroad between Pathankot in Punjab and Joginder Nagar in Himachal Pradesh passes through terraced fields and charming villages.
Vintage carriages and engines make the Kangra Valley Railway a nostalgic ride. The train ride lets you visit Kangra Fort and Kangra Valley tea gardens, a great opportunity to see the region's traditions and natural beauty.
9. Golden Chariot
Take a trip across the cultural tapestry of southern India aboard the famous Golden Chariot luxury train. Enjoy fine food, first-class service, and luxurious accommodations on board this train. Visits to UNESCO World Richness sites, historic temples, and bustling marketplaces highlight the cultural richness of southern Indian states like Karnataka and Tamil Nadu. The ornate gold leafwork that graces the inside of the train gives it a royal air, which inspired the train's name. For those looking for a vacation that combines luxurious accommodations with authentic local experiences, go no further than the Golden Chariot.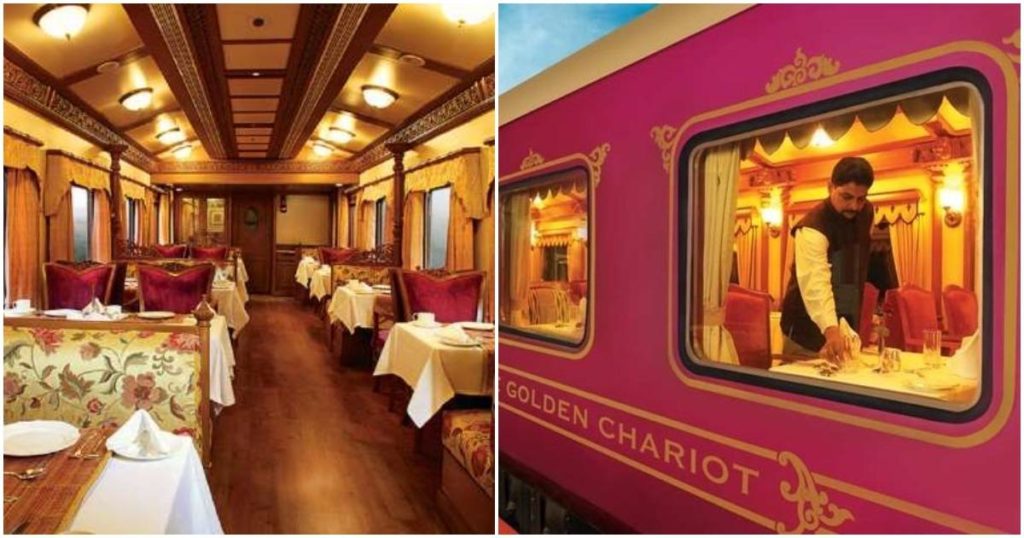 How to book a ticket
Remember that the vintage train you're interested in may have somewhat different regulations and processes for purchasing tickets. If you want your trip to go off without a hitch, read and adhere to the guidelines on the official booking online/offline ticket
Due to their high demand and limited supply, purchasing tickets for India's historic trains may be a thrilling but challenging experience. Here is a detailed explanation of how to reserve seats on these legendary trains:
Plan Your Journey
The first step in planning a trip on a historic railway is to choose the train you wish to ride and the dates you can make the trip. These trains typically operate on set timetables; therefore, booking in advance is recommended to ensure availability on your desired dates.
Go to the Authorized Railroad Sites
Indian Railways and state tourist authorities run most of India's historic trains. Check out the organizations' official websites to learn about train distance, location-covered routes, timetables, and ticket availability. You may check out websites like the Indian Railways' (https://www.irctc.co.in/) or the state tourist board.
See If Tickets Are Still Available
After deciding on a train and a time frame for your trip, you should look into purchasing tickets. Booking in advance is highly recommended for heritage trains, particularly during busy travel times.
Sign Up for a Website Account:
Creating an account on the relevant booking site is necessary to purchase tickets online. This often involves registering with your name, email, and password.
Choosing Your Train and Accommodations
You may plan a trip on a historic train by selecting the train, the number of people, and the type of service desired (First type, Deluxe, etc.).
Methods of Payment
Credit cards, debit cards, internet banking, and digital wallets are only a few payment methods accepted by the Indian Railways and state tourist websites. Have a tried-and-true form of payment on hand.
Information About Passengers
Please provide all passengers' names, ages, and identity information (Aadhaar card or passport numbers). Verify the details to make sure your trip goes off without a hitch.
Payment and Verification
Check the name of the train, the departure date, the passenger names and information, and the booking class. If everything checks out, go ahead and make the payment. Once your money is processed, you will receive a confirmation message detailing your reservation.
Get Your Tickets Here
You may be able to choose between receiving an e-ticket that you can print at home or picking up paper tickets at certain train stations or booking counters, depending on the heritage train and the ticketing platform.
Get ready for your trip
Remember to bring proper identification and proof of your reservation when boarding the train. Get at the terminal early to provide time for check-in and other formalities.
End Note
Remember that the exact vintage train you want to ride and its operator may have different ticket purchase regulations and processes. If you want your trip to go off without a hitch, read and adhere to the guidelines on the official booking websites.
Finally, India's historic trains provide regal adventures and gorgeous hill and valley rides. These trains reveal India's natural beauty and rich history. Are you a history buff, a railway enthusiast, or someone eager to discover India's different landscapes? These vintage trains provide fascinating trips across this magnificent and diversified country.